Advent: time for writing Christmas cards
spotted in Rheda - Wiedenbrück
"The custom of sending Christmas cards was started in the UK in 1843 by Sir Henry Cole. He was a civil servant (Government worker) who had helped set-up the new 'Public Record Office' (now called the Post Office), where he was an Assistant Keeper, and wondered how it could be used more by ordinary people.
The first postal service that ordinary people could use was started in 1840 when the first 'Penny Post' public postal deliveries began (Sir Henry Cole helped to introduce the Penny Post). Before that, only very rich people could afford to send anything in the post. The new Post Office was able to offer a Penny stamp because new railways were being built. These could carry much more post than the horse and carriage that had been used before. Also, trains could go a lot faster. Cards became even more popular in the UK when they could be posted in an unsealed envelope for one halfpenny - half the price of an ordinary letter.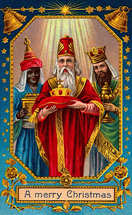 As printing methods improved, Christmas cards became much more popular and were produced in large numbers from about 1860. In 1870 the cost of sending a post card, and also Christmas cards, dropped to half a penny. This meant even more people were able to send cards."
| | |
| --- | --- |
| camera | unknown |
| exposure mode | full manual |
| shutterspeed | unknown |
| aperture | f/0.0 |
| sensitivity | unknown |
| focal length | 0.0mm |
Q' est ce qui co...